How to Fill a Pill Organizer Faster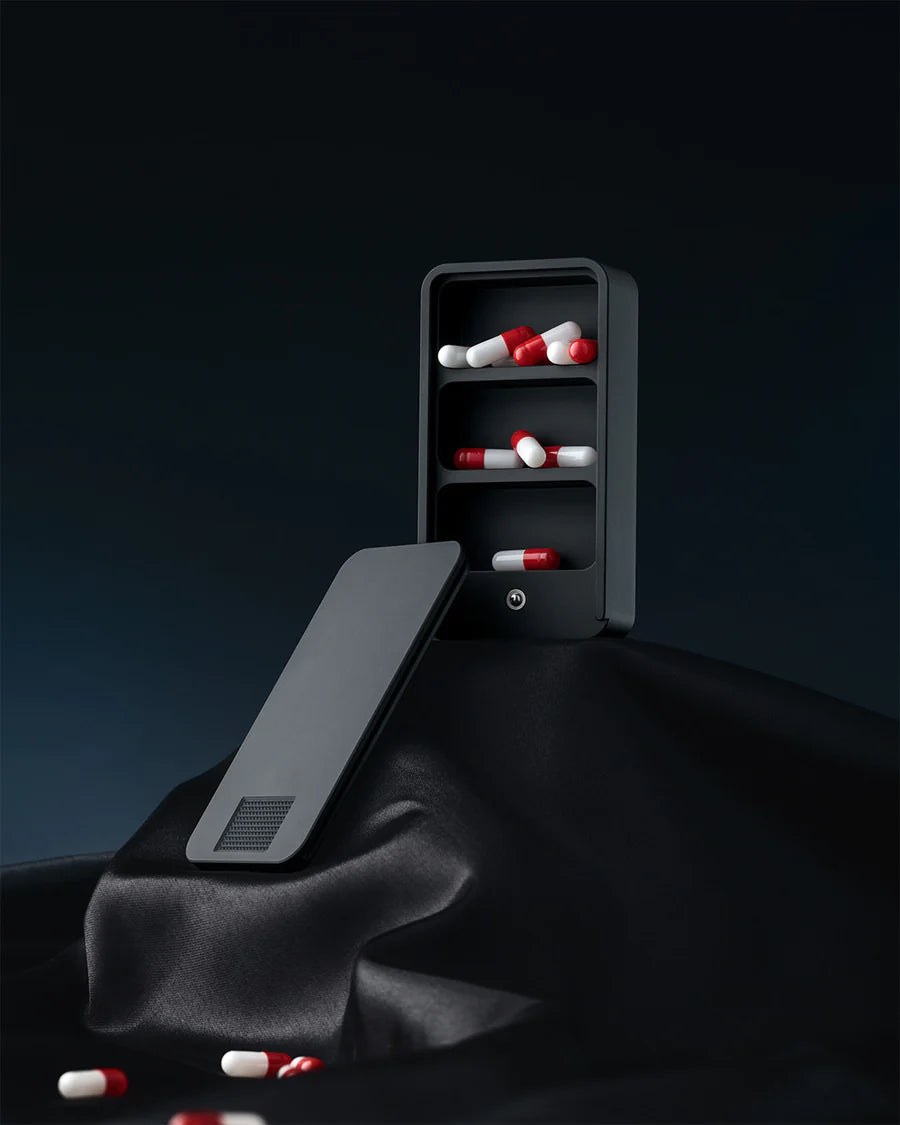 Whether you are traveling with supplements or figuring out how to remember to take pills more efficiently, pill organizers are your best bet. Filling pill organizers can help take the stress out of managing a medicinal regimen, serving as a visual reminder to keep your schedule on track.
The best way to build a new habit is to streamline the process. By learning how to fill a pill organizer faster, you can add efficiency to your routine and set yourself up for a week or month of pills in just a few minutes.
We'll cover everything you need to quicken the way you use pill cases. However, part of the battle is finding the best travel pill organizers and daily pill organizers in order to help you speed things up. You can find the best inventory right here at Ikigai Cases, thanks to our 100% aluminum design that is durable and built with ease of organization in mind.
With that, let's discuss why pill box filling is so important to begin with.
Why Use a Pill Organizer?
Learning how to use a pill organizer is remarkably easy, as it only requires a small amount of tinkering to integrate into your daily schedule. Once you've mastered the art of filling pill organizers, solidifying the daily habit will guarantee you stick to your schedule and never lose pills again.
Figuring out how to fill a pill box can also help you keep your pills safe from damage or loss. For example, if you need to figure out how to fly with pills, a properly filled organizer allows you to keep your medicine in one safe location without worrying about lugging along several different bottles.
Improving Medication Adherence
Whether you are adding a new pill or need a way to streamline medicine you have been taking for decades, it is critical that you avoid any disruptions to your schedule. Learning how to fill a pill box can help you stay on track with your schedule and minimize missed doses.
One of the best benefits of pill box filling is the presence of separate compartments, which you can use to delineate between days or dosages. You will have a much easier time remembering if you took a particular dose or not if you are able to visually confirm your dosage.
Keeping Your Pills Safe
If you haven't used the power of pill box filling in the past, it's fair to wonder about pill case materials, and how they can affect your medicine. So, do pills go bad if not in a bottle?
Thankfully, pill cases are 100% safe when made with sturdy materials like aluminum. In fact, aluminum is significantly safer than the plastics you will find in most pharmacy prescription bottles.
Metal pill organizers can also keep pills safe from moisture, sun exposure, or crushing that could disrupt the effectiveness of your regimen. Plus, pill organizers are often less accessible to small children or pets than standard bottles.
Whether you are figuring out how to pack pills for travel or staying on top of a regimen, it's clear there is no better choice than pill organizers. With that, let's discuss how to fill a pill organizer faster to help you lock in your new habit.
How to Fill a Pill Organizer Faster
One of the most crucial aspects of building any new habit is to simplify things, as you are more likely to secure a new routine if it is quick and requires little effort. We highly recommend learning how to fill a pill organizer faster for maximum efficiency.
Whether you are using a top-quality case made of long-lasting aluminum or a DIY pill organizer, use these tips on how to fill a pill organizer faster for the best results.
Understanding the Pill Organizer Layout
One of the first things you need to understand is the layout of your box. You can find pill cases divided into hours, days, weeks, or even months, with many serving multiple purposes. 
Depending on the base layout of your case, we recommend items like a permanent marker or label maker to add a visual cue for each compartment's purpose. For example, you may have a pill case with seven compartments, each with its own subcompartment to delineate the time of day.
Gathering Your Medications
Get your medications together before you begin filling pill organizers. While you are trying to replace pill bottles, it is vital that you write down important information like dosage instructions and refill dates.
We recommend keeping a separate sheet of all your medicines to serve as a helpful reminder in case of any questions. You can also use this sheet as a reminder to refill medicines with your pharmacy or to meet with your medical provider.
Verifying Dosages and Times
Before we begin filling pill organizers, you'll want to ensure you have the right dosage instructions.
Since medications can vary wildly, you need to understand how each medicine works in order to maximize efficiency when filling pill organizers. This may include verifying specific instructions, like taking a pill with food or water.
In addition to keeping a sheet with all your medicines, another helpful tip when filling pill organizers is to use symbols or small reminders as part of your permanent marker or labels.
Batch Filling
Once you have everything set, it's time to begin filling pill organizers. Batch-filling is the most reliable method of how to fill a pill organizer faster, and it will quickly become a favorite.
This helpful method for how to fill a pill box involves separating out each medicine by dose, allowing you to fill a week or month's worth of a given medicine all at once.
Why is filling pill organizers by batch faster, though?
Batch-filling allows you to group pills by dosage, rather than individually. For example, if you take a pill three times a day, you would count out 21 pills for a weekly pill box filling, which will save time compared to tackling each day on its own.
Using Tools
There are a few extra tools you'll want to consider to speed up the process. We love using small cups for batch filling, as you can separate out pills and quickly pour them into your organizer. You can also utilize funnels to speed up the process and eliminate any spills while you fill your case.
We also recommend learning how to clean a pill organizer with small rags or sprays between uses in order to keep things fresh.
Minimizing Distractions While Working
It can be easy to get distracted while filling your pill case, which runs the risk of losing your train of thought or making mistakes in the process. We recommend setting aside time in your schedule to silence your phone or other devices in a quiet space.
By minimizing distractions, you can quickly fill your pill box, which will help you further solidify the habit.
Develop a Consistent Routine for Filling a Pill Organizer Faster
Consistency is paramount when you are trying to build the habit of using a pill organizer. We recommend choosing the same time and day of the week or month in order to fill your pill organizer, as this can allow you to gather your tools and set aside distractions.
For example, you could aim to fill your monthly pill organizer on the same day you go to the pharmacy or receive a delivery.
With these tips in mind, you will be filling pill organizers with ease in no time. Now, let's discuss why Ikigai Cases is the best way to ensure you fill your cases as fast as possible.
Get the Best Pill Boxes for Fast, Secure Organization at Ikigai Cases
Using all of the tips in this guide means nothing if you don't have the best pill organizers at your disposal. Thankfully, everything from vitamin organizers to 7-day pill organizers is available right here at Ikigai Cases.
We started our company to help tackle a common problem with most pill organizers; just how difficult it is to use them. We crafted our daily and AM PM pill organizers to be accessible to nearly any user, with innovative latch technology that can be quickly opened and closed.
All of our pill cases feature aluminum-6061 and an anodized finish that is extraordinarily sturdy. Additionally, our sleek design is discreet and perfect for traveling, whether you are heading to work or on a dream vacation.
With clear-cut designs that last for years and compartments that make organization simple, there is no better choice for pill cases than right here at Ikigai Cases.
Closing Thoughts on Filling a Pill Organizer Faster
Overall, learning to fill a metal pill organizer is a simple endeavor that will save you time and money in the long run. By speeding up the process, you can stay on track with your regimen and keep your pills safe, especially if you plan to travel.
You can quickly recoup any upfront pill case costs by streamlining your routine and avoiding costly delays to your schedule, making pill cases a no-brainer.
Ikigai Cases is the #1 home for pill organizers that help you keep your regimen on track. With cases for daily, weekly, or monthly use, you can find an organizer no matter your schedule, so browse our inventory today!