How to Pack Pills for Travel: Best Way to Travel With Pills Hidden Domestically or Internationally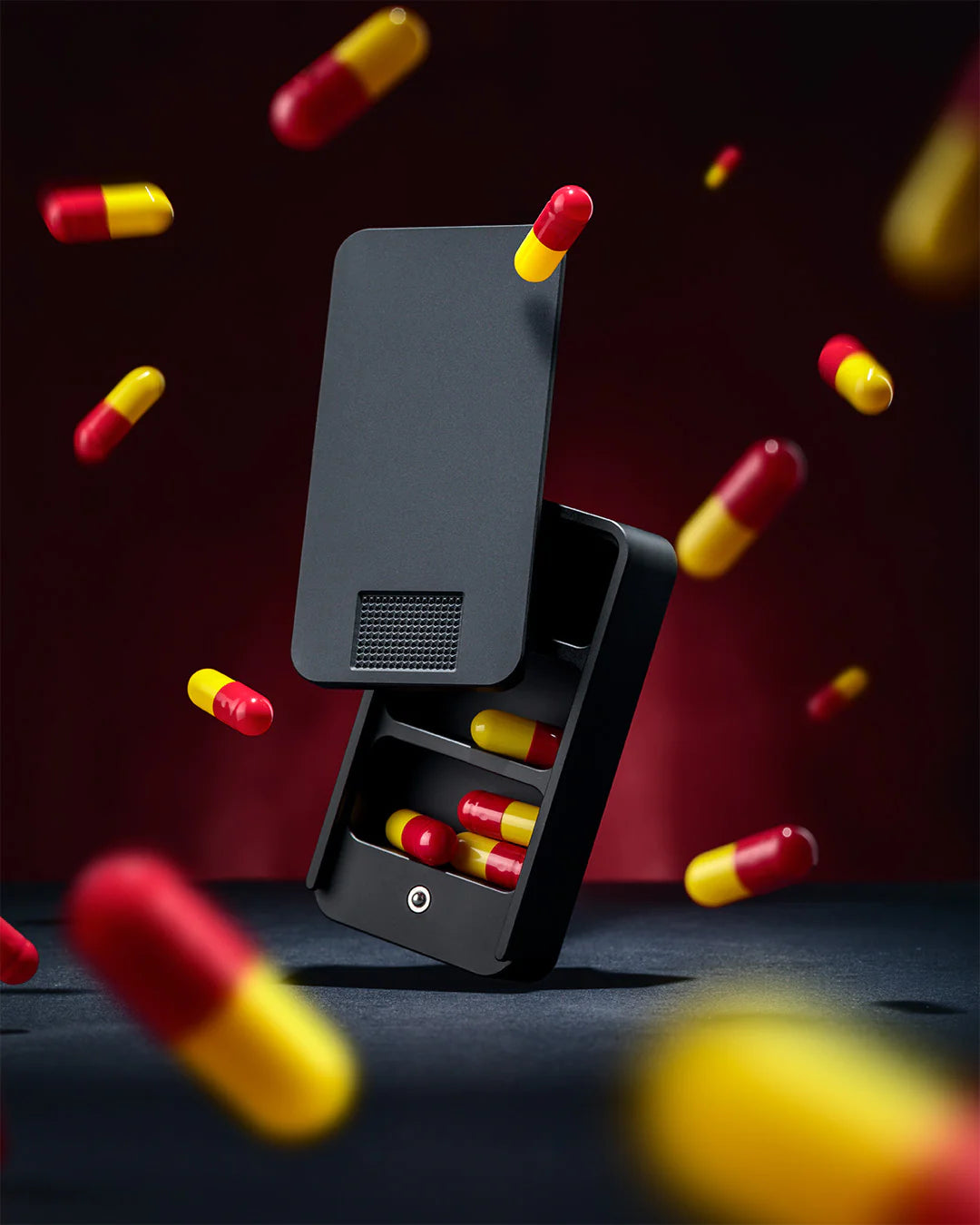 Whether you are headed to a major work conference or enjoying a holiday with family and friends, traveling is a fantastic experience. Even though anticipating a trip can be exciting, needing to pack and prepare can add some stress.
The stress of packing is especially true if you have a medicine or vitamin regimen you follow, as traveling can disrupt your everyday routines. So, can you travel with pills, and if so, what is the best way to travel with vitamins and medication?
As the industry leader in pill organizers that help people stay organized with their regimens, we know a thing or two about how to pack pills for travel, including the best way to travel with pills discreetly. That's why we created this guide on how to travel with supplements, including how to pack pills for air travel and some tips to ensure you stay on track with your routine.
Learning how to travel with pills is crucial for staying on top of your routines, so let's dive into our guide to ensure you can go globetrotting without disrupting your regimen.
Can You Travel With Pills?
So, can you travel with pills at all, or are you doomed to disrupt your regimen?
The answer is a resounding yes, but there are several ways to streamline the process to ensure no issues arise. Learning how to pack pills for international travel and finding a reliable method for how to remember to take pills will ensure you avoid any delays.
Does TSA Check Your Pills?
An essential part of learning how to pack pills for air travel involves understanding the guidelines set out by domestic airline security agencies. So, can you travel with pills through TSA checkpoints in the United States, and will they inspect your medications?
The answer is yes to both counts. TSA does allow medicines in carry-ons, but they retain the ability to inspect your pills in detail. This process may involve pulling you aside and asking permission to examine your drugs.
To make the process go smoothly, pack your medication in an easily accessible container, such as a pill organizer or plastic bag.  Be sure to keep your medications separate from your other belongings. You should also bring a copy of your prescription or doctor's note if TSA requires additional information from you.
If you are learning how to pack pills for international travel, research the policies of the jurisdiction you are traveling to. While many follow similar standards to the TSA, being able to identify your medications with a doctor's note is helpful as a general rule.
Do Pills Have to Be in Original Bottles When Flying?
TSA and other airline security agencies worldwide allow medications, but figuring out how to travel with pills also involves a follow-up question: should pills be in their original bottles?
While original bottles can provide an easy way for agents to inspect your pills, they are not required by TSA in the United States. In fact, transferring your medications to a labeled or engraved pill organizer may speed up inspection, especially with complex medicine regimens.
But wait, do pills go bad if not in bottles? This can vary depending on the quality of your pill case. Many plastic cases emit harmful toxins and chemicals, which can disrupt the effectiveness of your medicine, but metallic cases can keep your pills safe even longer than standard bottles in many cases.
If you've incorporated pill organizers into your regimen but aren't sure how to travel with pills, we recommend labeling each compartment of your organizer with the name and dosage of your medicine. We also encourage you to bring doctor's notes or prescriptions to speed up the inspection process.
More Challenges of Traveling With Pills: Damage, Spills, Regulations, and Privacy
Ensuring you know how to pack pills for travel can help you avoid common pitfalls. Learning how to travel with medicines involves balancing the risk of spills and temperature damage and ensuring you remain compliant with domestic and international regulations.
Once you figure out how to pack pills for travel, including how to use a pill organizer for the job, you can avoid one of the most dreaded mistakes: spilled medicines. Plastic pill bottles can come loose and scatter everywhere in your bags, especially when traveling by air or through bumpy roads by car.
Additionally, temperature changes can pose a significant risk to the integrity of your pills. This is especially true if you check luggage in an airplane or store your bag in a stuffy trunk space in your car. Excess heat or cold can render your pills ineffective, which could endanger your health.
Lastly, privacy can also be a concern when traveling with medication. While keeping your medication safe and secure is vital, you may want to avoid advertising to the world that you're carrying medication with you. Learning how to pack pills should also incorporate reliable tools like pill organizers, which are the best way to travel with pills hidden.
Now that you know the challenges you'll face, it's time we discuss how to pack pills for travel to ensure everything goes smoothly.
How to Pack Pills for Travel: the Best Way to Travel With Pills Hidden Domestically or Internationally
Figuring out how to travel with pills will help you avoid any issues or hassles, no matter where and how you travel. Many of our tips on how to pack pills for travel will apply to domestic road travel and international air travel alike, but we'll also go into a few specifics you need to know depending on the details of your upcoming trips.
Planning Ahead: Considering Your Medication Schedule
The first step of how to travel with pills is one of the most vital. You'll want to consider the details of your medication schedule, whether you take a pill once a day or take several pills at varying intervals and dosages.
A crucial part of figuring out how to pack pills for international travel includes considering any changes in time zones. If you are switching continents, you must consider if medicines in your regimen must be taken at specific times of the day. This will help you to either stay in your home time zone or adapt to your new one depending on the length of your trip.
Packing extra medication is also a good idea, just in case your trip gets extended or delayed. This will ensure that you have enough medication to last you for your trip.
Keeping a Medication List: Ensuring You Don't Forget Anything
Medication lists are a beneficial tool even when you aren't traveling, but they become more critical in the planning stages before a trip. Creating a thorough medication list frees up mental energy to spend more time preparing for that big business presentation or relaxing on the beach.
Plus, medication lists are also a crucial part of learning how to pack pills for travel since they can double as a way to ensure you avoid any delays with airline security agencies like TSA. Additionally, a thorough list of your medications can also help in the event of an emergency. We recommend carrying a paper copy in your bags and a digital version on your phone or laptop.
Why Pill Organizers are Your Best Bet for Travel: Safety, Organization, Compactness, and Privacy
Through learning how to travel with pills, you probably are wondering how to stay organized with everything. Between medication lists, doctor's notes, and several pill bottles, it may seem like a nightmare to sort through it all.
Thankfully, there's a simple solution in the form of metal pill organizers. They are the best way to travel with pills hidden, as their sleek designs help you retain your privacy while remaining organized. 
Metal pill organizers are safe for pills, preventing spills with innovative locking mechanisms while also being durable enough to withstand any temperature changes. They also offer a compact way to transport your medicines, avoiding the need for several pill bottles.
Paired with doctor's notes or engraved labeling, you can quickly present your medicines to TSA or a similar security agency and proceed with enjoying your travel!
Tips on How to Pack Pills for Air Travel: Navigating Airport Security
We can't blame you if dealing with the chaos of an airport before a huge vacation is something that fills you with dread. With these tips, you'll know how to travel with pills through an airport without adding extra stress.
Our most vital tip is to pack medication in your carry-on bag rather than your checked luggage. While it may seem more straightforward to let your pills go through checked baggage to avoid any issues with security, we all know that losing bags is a favorite hobby for airlines. Keeping your medication nearby prevents any life-threatening delays in your regimen.
Pill organizers make going through TSA easy, especially if you have labeled or engraved your pills and dosages. Security agents can inspect your medications in just a few moments and send you on your way.
Traveling by Car with Pills: Keeping Things Organized on Road Trips
Road trips are usually easier to navigate than airports, but there are still a few things to keep in mind.
We recommend pill organizers to prevent dreaded spills or temperature damage. They are also easy to access and retrieve pills out of, especially if you are stopping at rest stops frequently.
Wherever you pack your pill organizer, be sure it is in a cool, dry part of your vehicle to avoid any damage from excess heat or humidity. If you have medication that requires refrigeration, you may also wish to invest in a cooler for your travels.
Advice on How to Pack Pills for International Travel: Navigating Legalities and Cultural Differences
Figuring out how to pack pills for international travel internationally involves balancing everything we've discussed already today. For example, US-based travelers must consider TSA and international airline security agencies if traveling by air.
Different countries have different laws and regulations regarding traveling with medication. Some medications that are legal in the United States may be illegal in other countries, so it's essential to research beforehand to avoid any legal issues.
If you aren't sure, reach out to an embassy or consulate for the country you are traveling to, as they likely have experience with specific medicines and may be able to provide clear guidance.
Otherwise, as long as you bring a doctor's note or prescription list, you can navigate most international situations. Be sure to keep your pills securely hidden and discreet, especially if the country you are visiting has different cultural norms or rules around taking medication in public.
Now that you know how to pack pills for international travel, where can you find a fantastic metal pill organizer to help you stay discreet without disrupting security agencies?
Knowing How to Pack Pills for Travel, Get the Most Durable, Compact Pill Organizer Boxes at Ikigai Cases!
The #1 home for metal pill organizers worldwide is right here at Ikigai Cases! We are the creators of the world's first 100% metal case, using Aluminum 6061-T6, the same metal found in Apple computers.
All of our cases are 100% legal for use with TSA, as long as you pack them in your plastic toiletries bag. We've helped nearly 8,000 and counting satisfied customers revolutionize their medication regimens, and many of them have reported no issues traveling domestically or internationally with our products.
We founded Ikigai Cases to answer common pitfalls in the pill case market. Many pill cases are made of dangerous cheap plastics, which can emit toxic chemicals that affect the integrity of medicines. Plus, many plastic cases have lids that are difficult to open by humans, but paradoxically ones that always seem to spill all over your luggage when you least expect it.
Our 100% metal cases have an intuitive, state-of-the-art opening mechanism that will only work when activated by human touch. They are also accessible even for those with mobility impairments.
Our diverse inventory of pill and vitamin organizers includes daily pill boxes, weekly pill boxes, and even AM PM pill boxes for complex regiments. You can also use our cases as monthly pill boxes to help you ditch clunky pill bottles and build a strong habit with your medicine routines.
We also offer best-in-class customer support, including free exchanges to allow you to find the perfect size case for your regimen, along with a lifetime warranty.
Closing Thoughts on How to Travel With Pills
Learning how to pack pills for travel is crucial to ensuring a stress-free vacation. While TSA and other airline security agencies allow you to travel with medications, you want to follow their guidelines to avoid delays.
Using metal pill organizers and bringing a medication list and doctor's note can help immensely in the process. These tools allow security agencies to verify and inspect your pills quickly and help you avoid damage or spills in transit. By learning how to travel with pills, you can avoid any disruptions to your regimen and spend more time enjoying your vacation.
The #1 place to find metal pill organizers for travel is right here at Ikigai Cases. Our diverse inventory of pill cases has something for everyone, which is why we have nearly 8,000 satisfied customers and counting.
Our innovative locking mechanism and sleek design provide the best way to travel with pills hidden, whether you are traveling by domestic car travel or international air travel. We also provide exquisite customer support, including personalized guidance on the best cases for your regimen, a lifetime warranty, and the ability to exchange your case to find the perfect fit.
So if you are ready to streamline how you pack pills for land or air travel, shop our inventory at Ikigai Cases today!